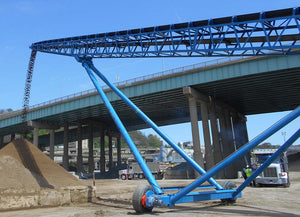 Iron City Supply NEW 30x150 Radial Stacker
Regular price $78,600.00 Sale
Price Starts at $78,600.00
We build to your specs:  cat walk, covers, power travel, hydraulic raise/lower, hydraulic motor, gas or diesel/hydraulic, belt scrapers, cleated belt, 3 ply belt, stop switches, motor starters are also available.  
Call or email for more information 814-233-9974 
30 x 150 Radial Stacking Conveyor
36" Deep Truss, 4x3x1/4 Cord Angle, 2-1/2x2-1/2x1/4 Lattice
Heavy Duty Undercarriage
Wrap type mid drive
Lagged head 16" Dia., 3 15/16" Shaft & Bearings
16" Tail, 3 7/16" Shaft & Bearings w/Screw Take-ups
Snub Pulley, 16" 3 /7/16 Shaft and Bearings
End Pulley, 18", 3 7/16 Shaft and Bearings
#8-25 Drive, Motor Mount, Belt Guard
40 hp, TEFC, 1800 RPM, 230/460 volt
5" x 35 deg., CEMA C Top Rollers on 48" Centers
5" Returns w/Brackets, 10' Centers
Belt, 3 Ply 330 PIW
4'-0" Receiving Hopper w Skirt Rubber
Pivot Plate, Tow Hook
Tail Guard
Primed & Painted
 *Shipping is the responsibility of the customer.  If you need a shipping quote, let us know your delivery zip and we'll get you a flat bed or step deck rate.