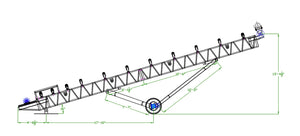 Iron City Supply NEW 24x40 Radial Stacker
Regular price $19,100.00 Sale
Price starts at $19,100.00  
Email sales@ironcitysupply.com or call 814-233-9974 with your specs and we'll get you a custom quote usually within a day.  

Build time is typically a week or less.  
Iron City Supply NEW 24x40 Radial Stacker - Options pricing available upon request
24" Deep Truss, 2x2x1/4 Cord Angle, 11/2x11/2x3/16 Lattice
Heavy Duty Undercarriage, 8x8 Tubing Axle, 16" Tires & Rims
Lagged head 16" Dia., 2 3/16" Shaft & Ball Bearing
Winged Tail, 2 3/16" Shaft & Ball Bearings w/Screw Take-ups
WORLD WIDE #3, Motor mount, and guard
Motor, 5 hp, TEFC, 230/460 volt
5" x 35 deg., CEMA C Top Rollers on 48" Centers
5" Returns w/Brackets, 10' Centers
Belt, Rubber, 2 Ply, 220 PIW, 3/16 x 1/16 Cover
48" Load Zone w/Skirt Rubber
Pintail Tow Hook
Tail Guard
Primed & Painted,
*Shipping is the responsibility of the customer.  If you need a shipping quote, let us know your delivery zip and we'll get you a flat bed or step deck rate.